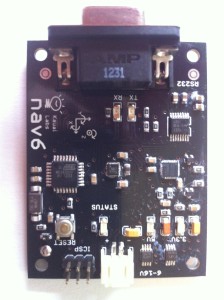 The "nav6" inertial measurement unit (IMU) was developed to provide sophisticated inertial navigation capabilities easily available to student robotics teams, including the FIRST Robotics Competition (FRC).
This low-cost circuit board enables a 4-wheel omni-directional drive robot to be driven in "field-oriented" drive mode by accurately measuring the robots "pose" – the amount of tip, tilt and rotation – relative to the field.  Additionally, the nav6 can be used to implement robot balancing algorithms.
The nav6 employs the Invensense MPU-6050 IC which includes a 3-axis accelerometer and a 3-axis gyroscope and an on-chip digital motion processor.  The nav6 also includes a Honeywell HMC5883L 3-axis magnetometer.
The nav6 is also Arduino-compatible, and can be programmed by anyone via the free Arduino Integrated Development Environment (IDE).
Additionally, software to easily integrate the nav6 into the FIRST robotics control system is available.
Open-source schematics, nav6 firmware source code and cRio code to interface with the nav6 are available online.